Dunlop Trailmax Meridian Tyres Available in Crieff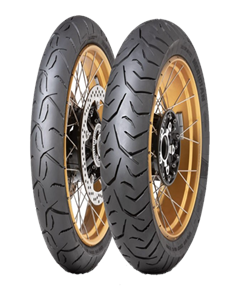 Trailmax Meridian
With its innovative new tread pattern, all new compounds and Multi-Tread (MT) technology the all-new Trailmax Meridian is a class-leading performer, on road and trails. Our testing shows a substantial increase in mileage and handling in wet and dry conditions compared to its competitors.
The Trailmax Meridian makes the perfect partner for bikes with a sense of adventure. It's a huge step forward, helping you experience new places, new adventures and a new-found confidence in a wide range of terrain.
THE ALL-NEW PREMIUM TRAIL AND ROAD TYRE.
For riders looking for adventure, the Trailmax Meridian takes them further. It's packed with enhanced benefits giving greater mileage, increased performance and more freedom on the road and trail.
EXEMPLARY HANDLING
Innovative 'Ice-Ax' tread pattern gives sure-footed handling in all conditions.
FAST WARM-UP
Rayon ply casing minimises warm-up time and makes the tyres go further.
IMPROVED WET GRIP
State of the art compounds and resin blends provide improved grip in wet conditions
MORE MILES
Multi-Tread (MT) technology increases corner grip and much improved mileage.*
*When compared to the TrailSmart MAX